University of Bristol (UoB) is ranked among the top five UK institutions for research excellence (2014 REF) and for leading employers (2015) and among the world top 40 university (QS Ranking 2015).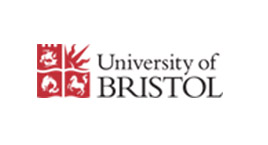 Country: United Kingdom
Type: University (End-User)
URL: www.bristol.ac.uk
Bristol CardioVascular-BCV (including the Bristol Heart Institute-BHI) together with Population Health are the top two research themes at UoB. BCV is an internationally recognised centre of excellence for performing translational cardiovascular research that takes basic science discoveries into the clinic. This is facilitated by an outstanding research platform including also the new Translational Biomedical Research Centre (TBRC) for large animal. By integrating more than 200 basic, clinical, and emerging biomedical technology scientists BCV spans over three faculties of the University and two NHS Trusts, facilitating multidisciplinary collaborations between scientists and clinicians to improve medical treatment of cardiovascular diseases with a focus on cardiac surgery and surgical approaches, cardiovascular regeneration, atherothrombosis, hypertension, epidemiology, exercise and nutrition, as well as developmental work at TBRC of new drugs or biomedical devices derived from emerging technologies such as bio-engineering, biomaterials, mathematical modelling, robotics, sensing, regenerative medicine, omics, wireless technologies, etc. We have a strong track record in translating to the bed side new surgical interventions in cardiac surgery tested and validated in porcine models highly relevant to human size, anatomy and disease.
The TBRC is a pre-clinical research facility, housed on a large veterinary campus, designed to deliver developmental and translational regulatory studies through an unprecedented package of specifications aligned to NHS, GLPMA, and Home Office (HO) standards making it unique into UK and EU. It is a new pre-clinical facility co-funded by the UoB, the Medical Research Council (MRC) and the British Heart Foundation (BHF) for a total cost of £6M. It includes under the same new roof: 1. A Core Device Delivery/Treatment Surgical Theatre inclusive of a modern with CathLab (Siemens Artis Zee) for open, keyhole, or percutaneous delivery of devices as well as testing of new robotics and for total body live cardiovascular imaging; and 2. facilities supporting the Core Theatre including Anaesthetic Induction Room, Intensive Care Unit, Recovery area, Long-term maintenance capacity, 3T MRI scanner suite (Siemens PRISMA) for in-vivo imaging longitudinal evaluations, Laboratory for on-site tissue processing/histology evaluations, Bio-Bank at NHS standards with extensive -190C cryo-storage systems, Seminar/Business booster room with videoconference facility, and Research office/Educational areas. With this package TBRC bridges the gap between basic science, NHS, and biomedical Industry for patient, societal, and economical benefits. With this package of specifications TBRC transforms concepts, fundamental discoveries and prototypes in validated advances ready to be tested in first-in-man trials in the NHS or for commercialisation. Its ultimate goal is to deliver validated advances by facilitating new multidisciplinary collaborations, via synergy, sharing, and cross-fertilisation, among top academic Institutions and Industry across UK and EU through the world renewed "British standards" of research, a unique package of specifications, regulatory accreditations, and unique selling points.